About Flight Medic UK
We have the backing, experience and safety nets needed to ensure your repatriation goes smoothly.
About Us
Flight Medic UK Limited is a medical repatriation company based in the United Kingdom and we have a worldwide presence.
Our medical repatriation service assists individuals and insurance companies for those who need medical help to get home. We will take you from any care home, hotel, hospital or house to a place of your choosing (from that list), anywhere in the world. Keep loved ones updated and care for our patients, while taking the best route. This could be by land, air or sea.
We may be small, but we are well established and connected throughout the globe. We can tailor packages to suit our patients' needs, and send the best medical UK registered professionals possible. Flight Medic UK has the experience, and safety nets in place, to ensure a pleasant journey no matter what crops up.
The technology that we use is industry leading and no other medical repatriation company has it. Our team updates the patient's progress throughout their journey so we can make sure everything runs smoothly from start to finish. All client information is secure and fully compliant with the European Union's General Data Protection Regulations.
Our Flight Doctors, Flight Nurses, and Flight Paramedics are on standby to help you get home.
---
Our Senior Management Team
Our team are our biggest asset.
Nick Ginnever
Managing Director
Nick is one of the founding directors of the company. Nick brings a wealth of experience to our already experienced operations team with a career spanning over 30 years from senior retail and commercial management to a role in the UK National Health Service as a paramedic. He has worked extensively as an aeromedical paramedic regularly accompanying patients.
Dr. Imran Ghafoor
Chief Medical Officer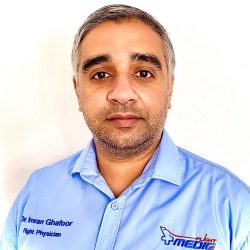 Imran qualified as a doctor in 2007 and qualified as a General Practitioner in 2012. In addition to his work with Flight Medic UK, Imran is a practice partner at a busy general practice in Manchester. He has a special interest in the aviation & repatriation, emergency, and crowd medicine disciplines alongside mental and sexual health. Imran's broad range of medical experience and continuing National Health Service practice gives access to an unrivalled network of like-minded contacts. Imran regularly flies for us and regularly receives high praise and feedback from his patients and their families.
Jill Pritchard
Chief Flight Nurse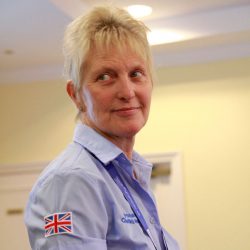 Jill has over 37 years experience in the healthcare profession, holding 25 years experience in the Royal Air Force & and a majority of this within the Aero-Medical Repatriation Squadron. Jill has seen active service with 3 full operational deployments during Gulf War 2 and Afghanistan.
She holds a wealth of teaching experience in Iceland and Egypt, currently practicing as a Nurse with the RAF, GP surgeries and several Accident & Emergency Departments across the UK, in addition to working in Gold Command for the military response to Covid-19.
Jill has worked for Flight Medic UK from the very start and we are pleased to have her as our Chief Flight Nurse.
Roger Linnell
Chief Flight Paramedic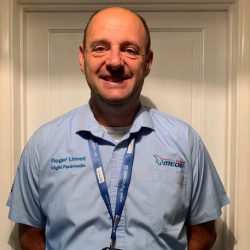 Roger has spent nearly 40 years working in the National Health Service. He spent 20 years as the senior manager overseeing operations at the Lincolnshire and Nottinghamshire Air Ambulance, flying the most unwell patients to specialist hospitals. Roger has numerous advanced surgical skills and is qualified to provide blood transfusions at the roadside along with a range of extensive pain relief and sedation techniques.
Roger has flown on multiple complex missions for us and we are delighted to have him working in our senior clinical team alongside Jill and Imran.
---